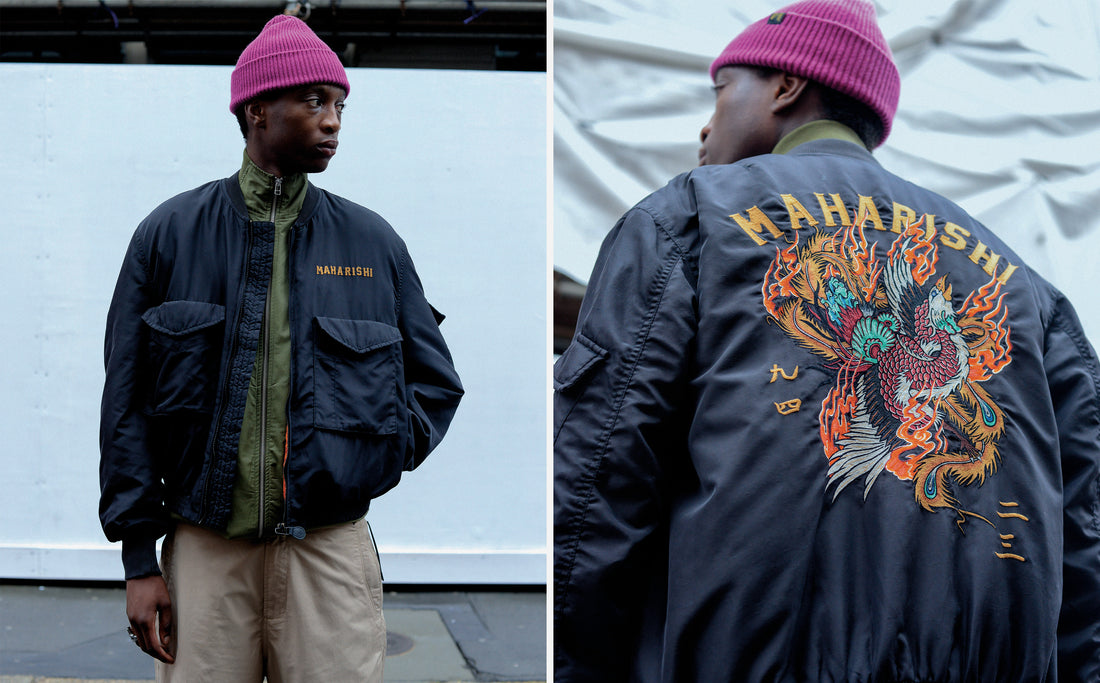 Maharishi reference the Hikeshi firefighters of Edo Japan to produce an original artwork for Autumn / Winter 2023. During this period (1608-1868), crowded living conditions and wooden buildings gave way to frequent fires. Methods were simple, destroy the surrounding buildings in an effort to contain it.

Each firefighter in a given brigade was outfitted with a special reversible coat (Hikeshi banten), these would be plain on the outside with the name of the brigade and decorated with rich symbolic imagery within the lining of the garment. Depictions of the Phoenix were commonly seen, and in Japan the Phoenix was known as Ho-o with origins stretching back to China in the 6th and 7th centuries often paired with a Paulownia leaf and flower.

Maharishi presents a Fire Phoenix rising from it's ashes, referencing the work of previous Ukiyo-e masters Koryusai and Bairei as a vivid hand-machined embroidery on Original Snopants®, heavyweight organic cotton sweats and a modified MA-1 flight jacket.
The capsule is available exclusively online at maharishistore.com, in store New York soon.
Shot by @henry_rich on @bakutadze